Sectors
Thermoformed and 3D materials
Laser machines for thermoformed materials: exclusive systems for your business
OT-LAS laser machines for the thermoformed industry are designed to guarantee extraordinary versatility and pinpoint processing. The materials suitable for thermoforming are ideal for laser cutting and engraving, with high-end products and clean, sealed edges. The outstanding processing speed and the possibility of creating extremely complex cuts and engravings ensure the creation of items and decorations in a small amount of time, without the need of finishing. OT-LAS proprietary technology offers even more advantages in terms of performance and customization. Furthermore, laser minimizes power consumption guaranteeing a low impact on the environment, doesn't need a direct contact with the item and minimizes the damage risk for the workpiece.
Laser Robot RX
RX is a product dedicated to the finishing of plastic, thermoformed, moulded or blown components in plastic and composite materials with three-dimensional cutting.The cut is flawless and without any traces of charring, even on materials such as carpets and the like.
Punti di forza:
No mechanical contact with the work piece and then simplifying the loaning
Low maintenance, 8 hour per year
High execution speed
Excellent level of finish of the board, lint-free
High cutting speed
Equipped with RF laser sources
Low operating costs
Product details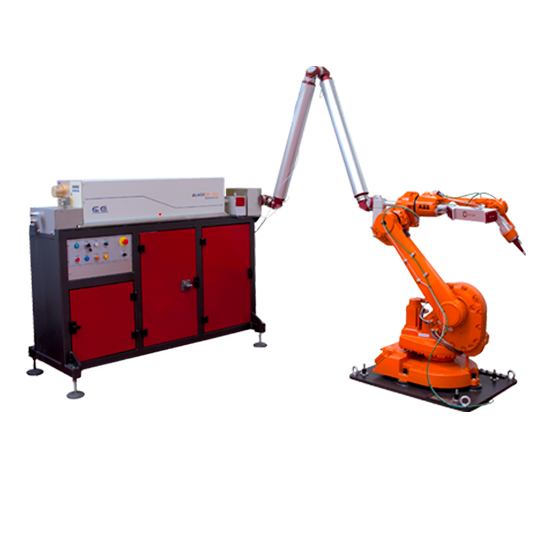 The advantages of laser machines in the field of thermoformed materials.
Choosing laser technology to work on thermoformed materials allows you to maximize the production process. Besides the advantages in terms of power and extreme speed of execution, there is the safety of remote processing. The saving of the time usually spent changing tools and finishing greatly increase the production pace. Furthermore, laser cutting and engraving don't generate waste materials (ex. waterjet) and need very little power, minimizing costs and environmental impact. Finally, laser ensures the creation of original and otherwise unattainable effects and products, maximizing flexibility.
Here are some of the many advantages of laser for thermoformed materials:
Exceptional production speed
Top processing precision
Processing versatility and uniqueness
Minimum power need
Why choosing OT-LAS machines for thermoformed materials?
OT-LAS laser systems offer unique performances and state-of the-art solutions for the cutting and engraving of thermoformed materials. The in-house design and development of every laser machine have allowed us to manufacture unmatched laser machines in terms of versatility and applications. Thanks to the innovative configuration of a 5-axis laser system coupled with a latest generation robot, we have made working in otherwise unimaginable positions possible. Furthermore, an advanced autofocus system allows the robot to automatically adjust the distance between the workpiece and the processing head, always guaranteeing a flawless result.
Here are some of the many advantages of OT-LAS systems:
In-house technology. All of our laser systems are internally designed and developed, with proprietary technology and the best materials on the market, to ensure the exclusive quality of our machines.
The best performances. The use of high-profile components, like stronger laser sources and a high-definition autofocus system, allows us to offer exceptional performances, in terms of power, precision and versatility.
Customized configurations. To satisfy every production need for our clients we realize customized configurations and provide qualified assistance for any procedure.
3D processing. Our laser machines make cutting and engraving workpieces of any kind and shape possible, allowing to work in any position thanks to the anthropomorphic robot.
Materials suitable for thermoformed laser machines:
Plastics and Eco-Plastics
Carbon
Resins
Foam materials
Polycarbonate
Examples of processing on thermoformed materials
Choose one of Ot-Las laser systems for your company
Call us to speak with one of our experts who will show you the solution that best meets your needs.