RX, Laser Robot cutting 3D
RX is an extremely flexible high-precision cutting device. The optic connection with articulated arm means that robots and lasers can be optimized for specific applications. RX has been designed by coupling a robot with a CO2 laser source via an articulated optical arm with 7 mirrors that ensures perfect transferral of the laser power to the cutting head mounted on the wrist of the robot itself. The system is available for use with ABB, KUKA and FANUC robots.
THE SYSTEM CHOSEN BY THE MOST IMPORTANT COMPANIES IN THE SECTOR FOR THE CUTTING OF THE REFRIGERATOR CELLS.

The advantages of robot laser RX
The three-dimensional (3-D) high efficiency cutting system competitive performance/price ratio.
RX can be used, due to its high flexibility, for many applications such as:
FINISHING COMPOUNDS of sports goods and protective equipment;
SOLDERING iron and steel SHEETS;
FINISHING and THERMOFORMED CUT of cars, appliances, furniture and design.
Strenghts:
Reduced maintenance;
Limited equipment stops for maintenance;
Cabin without soundproofing need;
Simplified laying (or positioning);
No mechanical contact with the tool.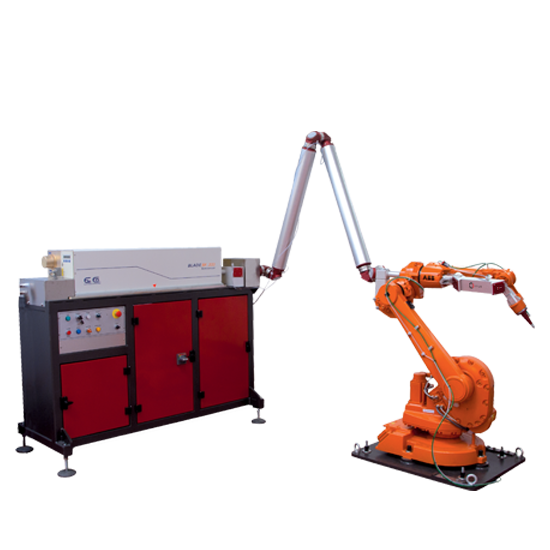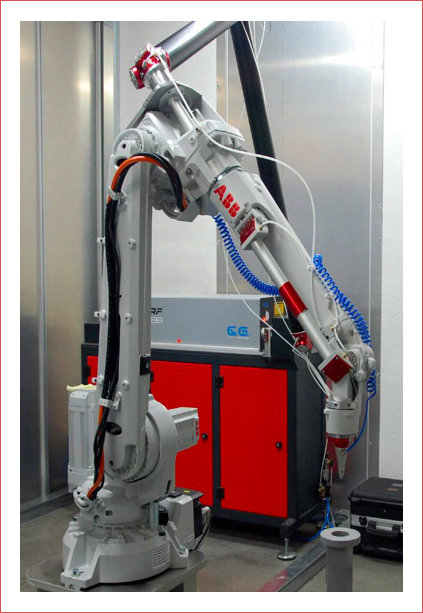 LASER RX ROBOT CONFIGURATIONS
RX has various configurations that use ABB, KUKA e FANUC robots with a radius of from 1.45 mto 2.0 m, each of which can be coupled with El.En's from 88W to
1200W RF sources, all of which exploit RF technology.
The two possible configurations are with the cutting head or the scanning head; the scanning head is very interesting because it allows to obtain a less cutting times, because the robot is used only to approach the cutting area then the cutting is making from the head using the speed of the galvanometric mirrors, much faster than the mechanical movement of the robot.
The RX system with focusing head
RX system equipped with focusing head (5" or 7" lens). Special system for thermoformed materials in ABS, HDPS, carbon fiber, fiber glass, Kevlar, plastics in general.
Applications:
• Car interior parts
• Dashboards
• Bumpers
• Plastic blow-moulded components
The components:
• The laser beam guide system
• Cutting head
• EL.EN Blade RF series laser sources
• Robot ABB, KUKA e FANUC
The RX system with scanning head
RX system equipped with scanning head (operating field from 180×180 mm to 500×500 mm).
Special system for thermoformed materials of 3 to 4 mm thickness. Main application: fridge/freezer inner liner.
Available for ABB IRB 2600 ID 200, KUKA KR 8 R2100-2 arc HW and FANUC ARC Mate 120iC/12L.
The components:
• The laser beam guidance system
• Scanning head 1735
• RF Blade series laser sources
• Robot ABB, KUKA e FANUC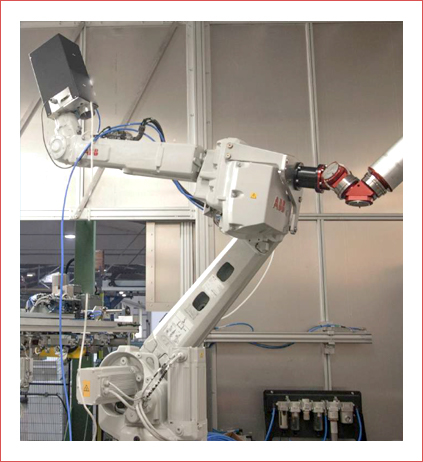 Materials that can be laser cut by RX
Car interior
Planks
ABS
Polystyrene
Plexiglass
Plastic
Glass fiber
Carbon fiber
Kevlar
Technical features
| | |
| --- | --- |
| Beam Power (Watt) | 350 – 550 – 750 – 850 – 899 – 1200 |
| Electric power (kW) | 10 – 12 – 14 – 17 – 22 |
| Single useful area (mm): | fix |
| Overall dimensions (mm): | 5150 x 4200 x 3660 |
| Weight (kg): | 4000 |
| Supply (Volt): | 380 3F+N |
The main fields of application
Are you interested in this laser machine?
If you need more information or a detailed estimate, please contact one of our experts: we will show you the solution that best suits your needs and will guide you in purchasing.