Machines for laser engraving and cutting of leather.
The OT-LAS laser marking, drilling and cutting systems are the ideal solution for natural or synthetic leather processing. Even the most precious leather lends itself to laser technology, as the laser can guarantee the accuracy and the precision required for such a delicate material. In addition, the optimization of the costs and of the processing time, while contributing to refined results, is an undeniable factor for industrial manufacturing.
That is the reason why we have developed specialist systems for the laser engraving and cutting of leather, specifically devised to deliver infinite decorative solutions as well as customization. A wide array of touch-sensitive and visual effects to obtain elegance and originality.
Our machines for laser cutting and engraving on leather:
Laser Machine CX
CX is available in the market of leather, shoe components and other materials decoration as a natural development of the system from which it comes.
Main features:
"self-refilling" RF laser source (power up to 850W)
optical polar scan head (single useful area up to 1200×1200 mm)
Product details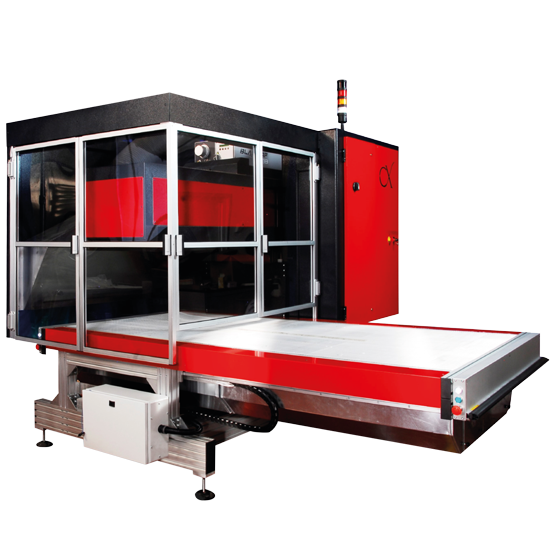 Laser Machine BX
BX is a highly flexible machine suitable for all types of decoration and customization, even on small items.
Fully designed and manufactured within the Group, the system combines efficiency and reliability while guaranteeing fast, reliable assistance.
The minimum marking line in proportion to the area varies from 0.2 to 0.6 mm.
Product details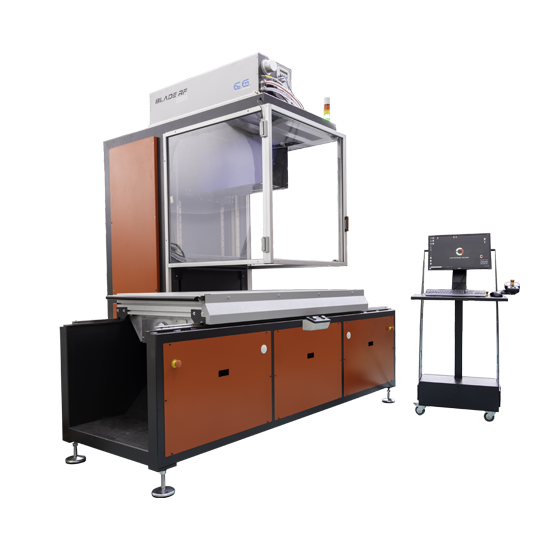 Laser machine CX-T
The CX-T can treat textiles up to a maximum height of 1600 mm, on a continuous or step-progress basis.
It has been specifically designed to revolutionize the clothing industry sector.
The CX-T system is perfectly suitable to treat denim, textiles for clothing and furniture while ensuring unique personalizations.
Product details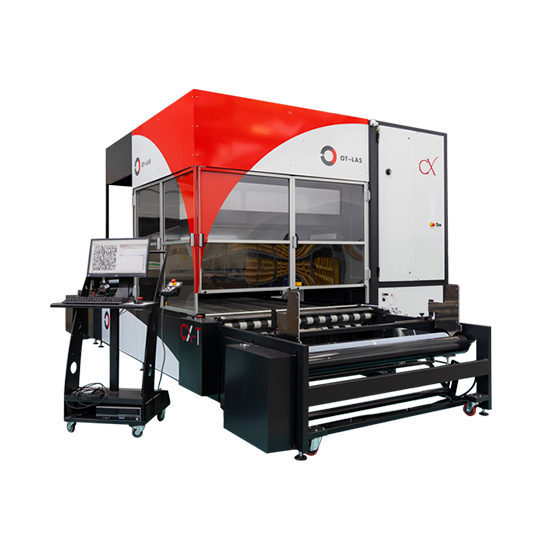 Laser systems for fashion, furniture and the automotive sector.
Leather is a noble material, able to inspire charm and sophistication. That is the reason why it is widely used in a number of sectors, in both its natural version and its green and synthetic alternative. From the fashion world and interior design, up to the automotive sector, the leather cutting and finishing represent key treatments. The specialist laser machines allowing precise cutting and neat edges as well as the possible realization of complex patterns in a short time involve a unique advantage. Due to our laser machines for leather, many items can be easily cut and marked such as bags, wallets, leather goods, uppers, whole pelts and many other accessories. Furthermore, there is not any risk of deformation thanks to the no contact – between machine and material – processing.
Why do laser cutting and engraving allow saving time?
First, laser processing does not require fixing the piece onto the processing table. Since there is no contact between machine and leather, nor any kind of pressure, we just have to position leather and laser-treat it. In addition, laser technology is the only one able to cut and engrave at the same time, thus considerably reducing processing time. The treatment is easy and fast and the perfection of the final result does not need any further processing or finishing.
This is why a laser machine for leather is the most recommended solution in industrial manufacturing.
What kinds of leather can be laser treated?
LLaser technology is suitable for several kinds of leather, right by virtue of its delicate processing. In particular, the leather engraving and cutting machines can be used in case of:
Natural leather
Synthetic leather
Examples of processing on leather
Advantages of laser processing by OT-LAS machines.
Our laser systems for leather are directly designed and developed by us to properly cut, mark and drill hides. Through the most cutting-edge technologies we are able to provide our customers with the highest performance and unlimited possibilities of use. Versatility of applications and high quality guarantee top-class finishing in both single pieces and mass production.
Here are some advantages of the OT-LAS laser machines:
High quality of processing
Infinite creative solutions
High performance in terms of power and speed
No wear of machines
No risk of leather deformation
Choose one of Ot-Las laser systems for your company
Call us to speak with one of our experts who will show you the solution that best meets your needs.