Machines for laser cutting and engraving of plastics
OT-LAS develops high-technology laser machines for plastics and thermoformed materials to guarantee maximum performance and a reduced environmental impact. The systems for laser cutting, engraving and micro-drilling of plastics have introduced a significant change in this sector. Through the laser, extremely complex graphics can be carried out in a few seconds, for instance logos, wording, serial numbers and high-precision bar codes. And all of this does not require any change of machine. The manufacturing speed and the absence of material waste represent a breakthrough compared with the traditional cutting and marking techniques. In addition, the wide range of applications and the various possible customized configurations  make our laser systems the best green technology for the requirements of any organization.
Our laser machines for plastics:
Laser Machine CX
CX is available in the market of leather, shoe components and other materials decoration as a natural development of the system from which it comes.
Main features:
"self-refilling" RF laser source (power up to 850W)
optical polar scan head (single useful area up to 1200×1200 mm)
Product details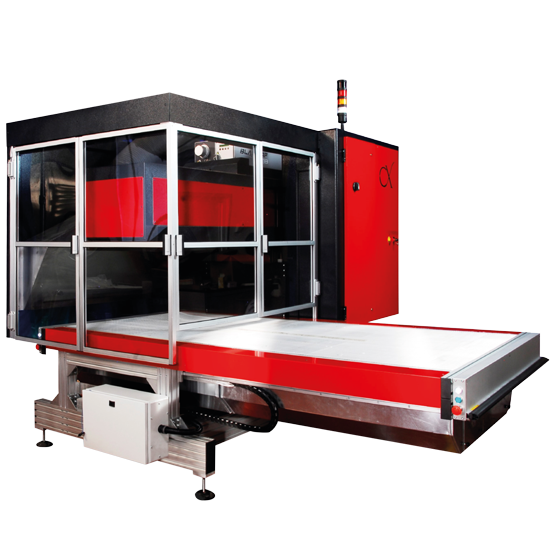 Laser Machine BX
BX is a highly flexible machine suitable for all types of decoration and customization, even on small items.
Fully designed and manufactured within the Group, the system combines efficiency and reliability while guaranteeing fast, reliable assistance.
The minimum marking line in proportion to the area varies from 0.2 to 0.6 mm.
Product details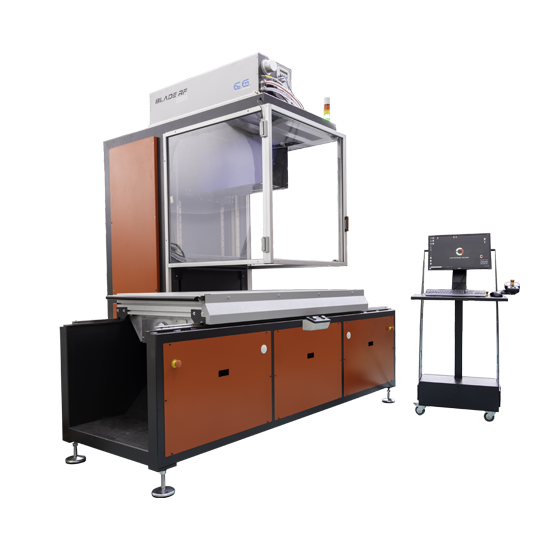 Laser systems geared towards the sectors of thermoformed materials, automotive, design, gifts and fancy goods, lighting.
The laser systems for plastics can apply to many manufacturing sectors. From gifts and fancy goods to interior design, from thermoformed materials to the automotive products, up to the fields of lighting and packaging.
Thanks to the laser, plastics can be now cut and engraved in a single operation so as to obtain the most different objects and particularly refined decorations. The final result is a dramatic reduction in power consumption.
The OT-LAS laser machines for plastics marking, thermoforming and cutting are specifically designed to offer an extraordinary range of high-speed processing for any manufacturing requirement.
Go green: laser advantages for the environmental impact.
The versatility of laser processing and its features allow excellent-quality cutting and engraving with reduced manufacturing time. In the thermoformed materials' processing too, power saving is decisive while precision and customization are increasingly higher. Besides preventing power waste, laser cutting does not leave any residues due to processing (for instance: water-jet), thus reducing the environmental impact of the material to be disposed of. Finally, thanks to laser marking, inks and chemical components that are harmful to the environment are no longer necessary. In short, using laser technology you can have:
High power efficiency

Considerable reduction of waste and costs

No waste material

Environment-friendly alternative to chemical inks
What kinds of plastics are suitable for laser engraving and marking?
Every plastic material reacts differently to the laser use. Anyway, the laser allows precise and neat processing, leading to high-definition results and perfectly-sealed edges. Furthermore, it does not deform materials at all as there is no contact during processing operations. Since it is green technology, it is particularly recommended to reduce the environmental impact in this kind of production. The plastic laser cutting and engraving are suitable for:
Acrylic material

Polycarbonate (PC)

Polyamide (PA)

PCB

Mylar
Laminated plastics

Polyoxymethylene

Polysulfone (PSU, PPSU)

Silicon

Polypropylene (PP)
Polyethylene (PE)

Plexiglass

ABS

Rubber

Polystyrene (PS)
Examples of plastics processing
Advantages of the OT-LAS laser systems
OT-LAS develops and directly manufactures in house every machine so as to offer excellence with no intermediaries. Our machines for laser cutting and marking are specifically developed in order to guarantee the utmost simplicity of use and extraordinary performance. In addition, thorough knowledge of each component allows supporting our customers even for customized system configurations.
The OT-LAS laser machines feature:
Maximum efficiency and speed performance

Proprietary technology and made-in-Italy quality

Possible customized configurations

Perfect results even in complex processing

Simple use and management

Maximum versatility in processing

Saving of power consumption

No waste material
Choose one of Ot-Las laser systems for your company
Call us to speak with one of our experts who will show you the solution that best meets your needs.