Marble laser engraving: 4 efficient and innovative points in its favour
Marble laser engraving today is strongly recommended to process this special type of stone. Let's find out why in this article.
Until a little time ago, treating marble supports and slabs for interiors and exteriors meant using old techniques and methods. The main ones we can list are the following:
Polishing: marble working with the use of automatic machines equipped with grained abrasive supports that bring about plan polishing.
Bush hammering: arried out by means of special tools equipped with discs that, spinning around, hit against the surface of the marble slab, thus generating small cavities and a bush-hammered surface.
Acid etching: it is carried out by submerging the marble in basins containing acid. The resulting effect is that the marble gets a worn and distressed look. For its particular hazardousness, acid etching cannot be carried out in a yard, but exclusively in specially-equipped factories.
Sandblasting: this treatment implies a marked satin finish of the marble, by taking advantage of a strong blast of air and sand "Respirable Crystalline Silica (RCS)" onto the marble support to be processed. Sandblasting gives the marble a non-slip feature that is ideal for exteriors.
These are all the most traditional techniques used to mark, engrave and bleach marble. Yet in recent years, laser has strongly caught on as an engraving technique for this special type of stone; it has many advantages and benefits for the operators that need to carry out this type of treatment.
What's new with marble laser engraving
Marble processing without direct contact – as the one granted by laser engraving – allows reducing the risk of accidental breaking of the metamorphic rock. This is not a rare circumstance occurring during marble engraving carried out by means of the most traditional techniques.
Laser engraving also offers the possibility to process various materials without the need to replace the machine. This is a point of strength of laser machines for marble engraving, since it completely removes the problem of the tool wear and tear, as it happens with contact processing instead.
Whenever a marble worker, specialized operator or craftsman work a marble slab with traditional contact methods, they are forced to apply then remove the tool from the marble block or slab to be processed. This implies handling machinery that is often very dangerous if not handled with care.
Find out how to facilitate manufacturing processes and reduce any hazard for the operator thanks to Ot-Las laser systems for marble processing.
How to apply marble laser processing and engraving
The marble laser engraving technology allows recreating, either on supports or big slabs, the finest writings, decorations, textures both for indoors and outdoors, brand and company logos, and pictures.
Thanks to the new radiofrequency 1200-Watt power laser, a marble operator can obtain extraordinary effects on the surface to be trated. With the correct excavation depths, the pinpoint calculation of engraving spaces and execution speed, production times are optimized.
What types of marble laser engraving can be carried out?
The marble processing laser systems allow creating long-lasting engraving, which can stand weathering and does not fade over time.
For example, many people use laser to engrave the bulk of Carrara-marble gravestones. This technology allows obtaining writings such as names, dates, commemorative sentences with an exceptional finishing and a long-lasting contrast.
The customization of bricks, tiles, stones or any other solid (organic) natural substances can be requested by companies, developers, architects, gardeners, retailers as a unique way to add value to their interior design or outdoor furniture offers.
4 advantages of marble laser engraving
What are the advantages of laser compared to other technologies?
1. Eco-friendly and energy saving
One of the advantages certainly is the eco-friendliness, both under a point of view of energy consumption and disposal of production waste. In both cases, the laser for marble engraving is a winning choice.
In fact, the laser technology does not require great energy supply for the machine to operate, whereas all the above-mentioned traditional treatments require a huge amount of energy for their processing.
As regards eco-friendliness, the only processing waste is smoke and dust. Think about sandblasting, for example, which gives a very similar result to that of laser, where the processing waste produces water that has to be then filtered and reconditioned.
All this has an impact on the final production costs of the object. The laser system generates no processing waste: the resulting smoke, if appropriately filtered, can be released in the air.
2. Working accuracy
As mentioned above, laser adds an incomparable advantage to stone working, with particular regard to marble engraving: accuracy. Laser allows obtaining details that cannot be reproduced by the most traditional working methods.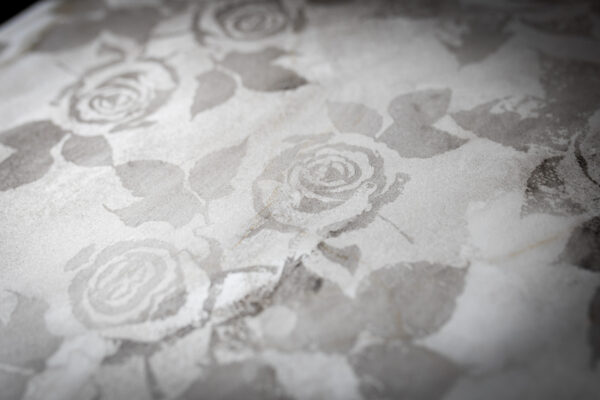 By setting the correct system parameters, you can impress a photographic reproduction on the marble surface. Thanks to the latest marble laser systems, you can mark a picture with shades of grey on a quite smooth marble surface.
Processing can be carried out without using ink, but simply through a different degree of the laser-projected heat. This kind of engraving remains unaltered and unchanged over time.
3. Higher creativity and serial reproduction of patterns
Another aspect not to be underestimated when considering the marble engraving laser system is its easy way to reproduce effects, decorations and patterns over the surface. In order to obtain the desired effect, you only need a graphic-format file (AI, DXF, CDR, JPG, BMP, etc..) to be loaded onto the Corel Draw graphic engine. This is due to the machine NC (numerical control) file processing.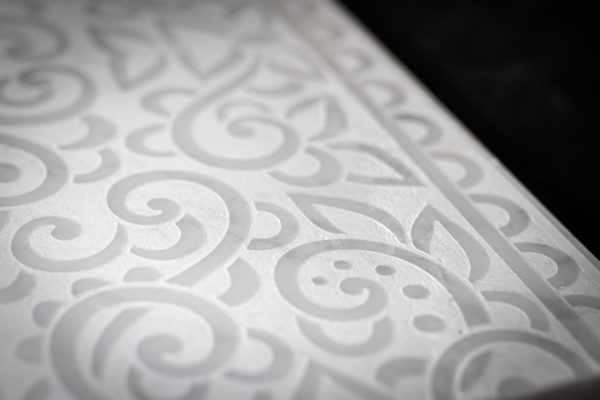 This means being able to serially repeat thousands of patterns on marble by the sole use of a PC. For example, to customize a marble support with a floral pattern using the sandblasting method– which is the most similar treatment to laser, as already mentioned – it is first necessary to compose the drawing on an adhesive film, then cut the adhesive sheet by means of a cutter, apply it to the marble, making sure not to create any air bubble between the drawing and the surface.
Subsequently, it is necessary to remove the film, namely remove the part of drawing that has to be sandblasted. The plastic film is just used to protect the areas that must not be hit by the sandblasting jet.
As you can understand, this is a very long work that requires maximum attention at any steps. For large-size slabs, this could even require several days of work! The higher simplicity of the marble laser engraving compared to marble sandblasting is evident.
4. User-friendliness and operators' safety
An additional advantage that we would like to point out with regard to using the Ot-Las laser machines for marble laser processing and engraving is their unparalleled user-friendliness. This is something that always leaves our customers astonished.
After loading the marble slab, support or tile, whether in big or medium size, its laser processing does not require any special, heavy or dangerous, tools. Everything is made through a CO2 laser source that projects a very intense source of light (and heat, as a result) onto the working table. The protective devices installed on the machine are appropriate to protect the operator from the laser beam.
The entire procedure occurs in total safety for those who handle or set the machine. There are no hazards for the operators' safety or health, because a laser machine removes any potential problem that usually occurs in those environments where heavy mechanic tools are used.
Marble laser workers are protected from any risks arising from the inhalation of substances that are harmful to breathing. This because no waste materials or dusts that remain in the air are generated, but only smokes or micro-powders of poor quantity, which are appropriately suctioned.
The operators' safety is a key issue.
What are the best marble-engraving laser machines?
Ot-Las designs and develops machinery for laser engraving of marble, natural stone, granite and precious marbles for indoors and outdoors.
The Ot-Las CO2 laser source is a semi-sealed radiofrequency system. This means that the laser beam does not run out. You simply need to replace the gas cylinder with a refill. For example, in case of the laser machine that is suitable for 1200-Watt RF 1222 marble engraving, the gas charge has a duration of one month and a half.
The Ot-Las marble engraving machines have no limits as for the size of the parts to be processed. The laser system can be configured and modulated based on the customer's manufacturing and processing needs.