Laser machines for innovation: free to design
Innovation in industrial production introduced by laser technology opened the doors to the future of industry in several sectors. Thanks to the extreme flexibility of laser and its strong production cost reduction, companies can design and experiment with a freedom that was once unlikely. This is a precious advantage to meet the customization needs of your customers while being competitive in a market that is more and more advanced. Laser innovation in industrial processes also allows getting unique effects in terms of safety for workers and the environment. Here below all details that highlight how laser technology can be a key to the new vision of industry.
Innovation of the production cycle for the future of industry
The use of laser machines in industrial production is now a proven reality in different sectors, from textile to footwear, from interior design to automotive, to mention a few. However, investing in laser technology also means guaranteeing your company a key role in the industrial scenario of the next decades. Industry 4.0 has shown the need for production processes oriented to digitalization, automation and interconnection. Laser is the flexible technology par excellence: it can be seamlessly integrated into the production cycle and easily and rapidly automate processes.
The advantages of laser in the innovation of industrial production
The increasingly widespread use of laser machines is not only the consequence of a long-term vision. The undeniable advantages of laser under an economic, planning, productive and logistic point of view act as incentives for companies. Here below some of the most important ones:
Production cost reduction and design innovation
In terms of industrial innovation, the production cost reduction is one of the most significant advantages. In case of traditional technologies, the production of small lots and complex processing mean a considerable increase of the production cost. This results in a strong limitation of the design freedom. Laser has revolutionized the industry rules with the possibility to experiment with new types of processing, include other sectors and obtain unique parts at very low prices. Laser beam replaces the need for tools, and allows obtaining any effects or complex patterns received from CAD program in a few minutes. Therefore, designers and manufacturers are free to innovate without any impact on the company budget.
ighest precision and opening of new markets
One of the most appreciated characteristics of laser processing is the extreme precision guaranteed by the laser beam. The higher quality of processing, combined with the production speed and low manufacturing cost, allow companies to approach new market sectors. This is the case for microperforation of soundproof panels, where holes are required with an infinitesimal diameter, but also for decoration of coatings and furnishing items destined to interior design, or for high-accuracy components for the automotive sector.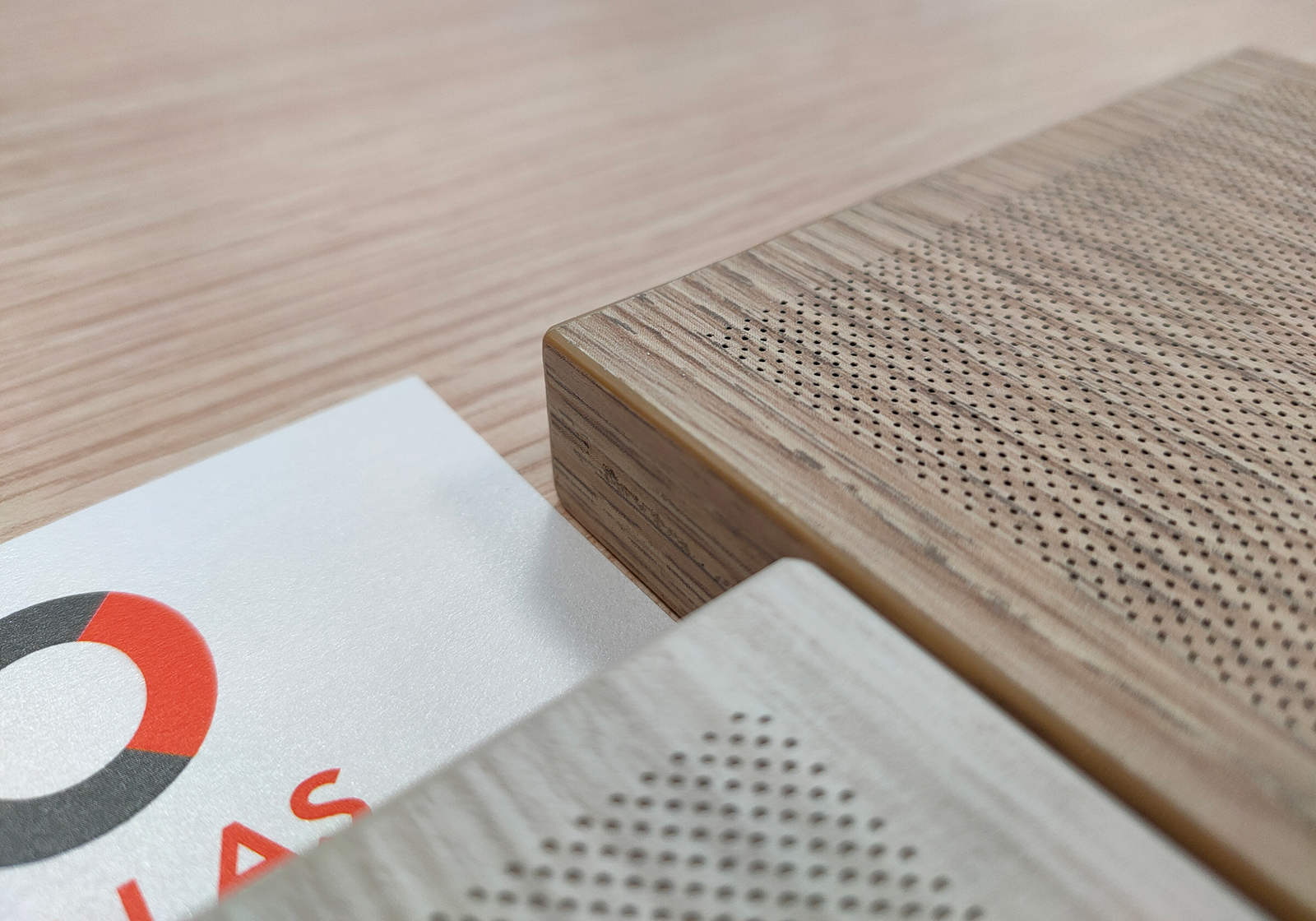 Laser customization and on-demand production
The customization requirement is a fundamental need in current markets. From fashion to furniture, from the automotive sector to the manufacture of packaging and boxes, the possibility to offer unique and exclusive products makes the difference. Besides keeping a low production cost of limited edition and customized products, laser represents an incredible tool for creativity. You only need to set the type of drawing, image, code, or writing desired in the program, to obtain a potentially endless range of works. The on-demand production becomes accessible to any company without this increasing the production costs or keeping resources and machines busy for long periods.
Production speed and less inventory and warehousing even with large lot sizes
Large lot sizes also take advantage of laser innovation, thanks to the possibility of mass production without any loss of quality or wear and tear of the tools. Furthermore, the laser precision removes any waste ofmaterial, thus reducing both expense and volume of the stored material. Such advantages allow companies to increase quantity and quality of the output with a net increase in efficiency and production flexibility.
Less human work and higher sustainability
The innovation in the industrial production introduced by laser also involves sustainability of processes. Due to special production that does not require tool changes< and is mostly based on programming, laser technology is safer for workers. Furthermore, it does not require the use of chemical substances that are harmful to health and the environment, as it was for instance in case of  denim "vintage" effect, previously obtained through sandblasting. Such advantages, combined with reduced consumption of energy resources compared to the traditional processing techniques, make laser an innovative technology from an environmental-friendly point of view, too.
Why choosing Ot-Las for industrial innovation
Ot-Las laser systems for CO2 laser engraving and marking guarantee excellent performance and innovative applications. Entirely designed and manufactured in Italy, Ot-Las machines come with proprietary software and technology and allow customized configurations.
The advantages of Ot-Las machines:
One supplier only

Very high performance in terms of power and speed

Original and flawless processing

Endless range of effects and customizations

Tailor-made configuration and dedicated support

Made-in-Italy machinery and components 

Perfectly sealed and clean edges

Saving of energy and production times

Possibility of integration into production lines

 
Find out our laser systems for industrial innovation on our website or contact us for any further information.