2022 textile industry's trends: laser treatment and sustainability
Less consumption, more efficiency and customisation thanks to laser technology for textiles' marking.
Is a sustainable fashion possible? 2022 textile industry's trends say so. Protagonists of the change, laser technology for textiles, reduced resources consumption, new production processes, that are more efficient and less polluting. A pursuit of sustainability and streamlining which result in the struggle against over production through the enhancement of customisation and on demand products. Here are all textile trends for fashion industry's future.
Reconnecting to nature through technology: laser for textiles
The first trend in 2022 textile industry concerns the use of new technologies serving nature. One of the many: laser technology for textiles introduces a green revolution by implementing low environmental treatments and processes. Laser marking of textiles allows a reduction in water consumption up to 60% and a net saving of production time. In addition, it allows reaching a wide range of effects without using chemicals and pollutants, as in bleaching and jeans vintage effect. The utmost accuracy and efficiency of laser allows eliminating energy and materials' waste in favour of high-performance and eco-friendly production.
Power to creativity: customisation and on demand products
The second trend strengthening in 2022 textile industry is the importance of customisation and creativity as a tool for innovation. In the reflection the pandemic brought in fashion industry, the need for dealing with over production and fast fashion waste is crucial On the one hand, craftsmanship takes its revenge through the demand for tailor-made garments. On the other hand, textiles companies are focused on offering greater customisation and looking for increasingly exclusive products.
To fight against overproduction, many companies decided to promote on demand production which, however, requires easy and quick production processes. In this case too, the advantages of laser for textile products offer a dual solution. Laser's accuracy and versatility allow to obtain unique and extraordinarily complex treatments in very short time, for the benefit of creativity and production efficiency.
Traceability and safety in producing and marking textiles
The third trend to be considered in 2022 textile industry is sustainability, defined also as occupational safety and health and supply chain traceability. A more aware consumption concept needs adequate production standards, able to meet high quality standards. Eliminating chemicals for the benefit of textiles' laser treatment means protecting both environment and workers. In addition, the possibility to carry out assembly production without changing any tool reduces time and risks related to machine placement. Digitalisation and computerisation of production processes also allow better quality control, through a meticulous tracing of each step.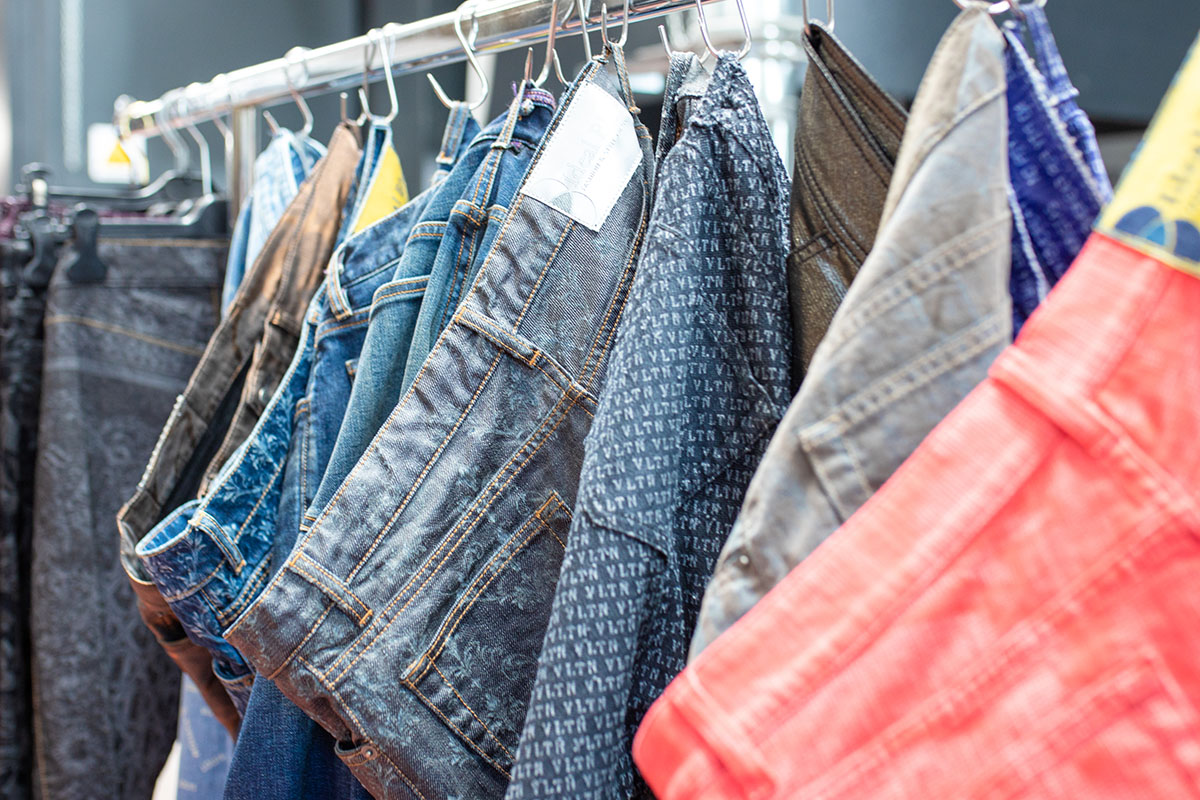 New materials and natural textiles: between recycling and innovation
Aesthetics, processes, but also raw materials. New trends of textile industry are linked to textiles' choice too. From the return of natural fabrics, as linen and cotton, to the introduction of innovative technical fabrics, resulted from plastic's recycling, cellulose, and vegetal fibres. Another reason to choose laser for marking textiles, making complex treatments, both on natural raw materials and synthetic and composite fabrics, possible. Due to customisation, laser also allows reusing old fashioned garments, fostering recycling and cutting waste at every level.
Laser innovation by Ot-Las to treat textiles
Ot-Las designs and internally produces laser machines for marking latest generation textiles. Thanks to laser machines as CX-T denim can be directly treated and cut from the roll, by minimising production time. A couple of minutes and no more to carry out the pieces that make up a garment by adding exclusive customisation effects. Laser machines for textiles by Ot-las are totally made in Italy and customised for companies.
Find out all the advantages of textile laser machines by Ot-las or contact us for more info.